Bright Visions is an annual black-tie fundraising event that supports State Library Victoria's conservation projects. This year's theme celebrated the Library's collection of extensive gold rush materials.
Working closely with the Library's Partnerships team, Brand by Name developed event branding and collateral that communicated the event's clear offerings — extraordinary food and wine, networking possibilities, exclusive viewing of collection materials and inspirational speakers.
– Event Branding
– Print Design
– Print Management
Drawing on the rich entrepreneurial spirit of the gold mining era, we created event collateral inspired by a single item in the Library's collection: a kerchief printed in 1852, illustrating a family's experiences on the Victorian goldfields.
A 'Bright Visions at State Library Victoria' brand mark created an over-arching cohesive visual identity, which threaded through each piece of event collateral.
A custom sculpted emboss printing block was commissioned, the pattern inspired by the kerchief's decorative border. This type of emboss is rare, and when combined with the Bright Visions gold foil mark, it created the expectation of a luxurious, exclusive evening.
The vast final ensemble included save the date cards, embossed invitations, bespoke envelopes, gold stamped event programs, flickering paper lanterns and a silk limited-edition reproduction of the kerchief.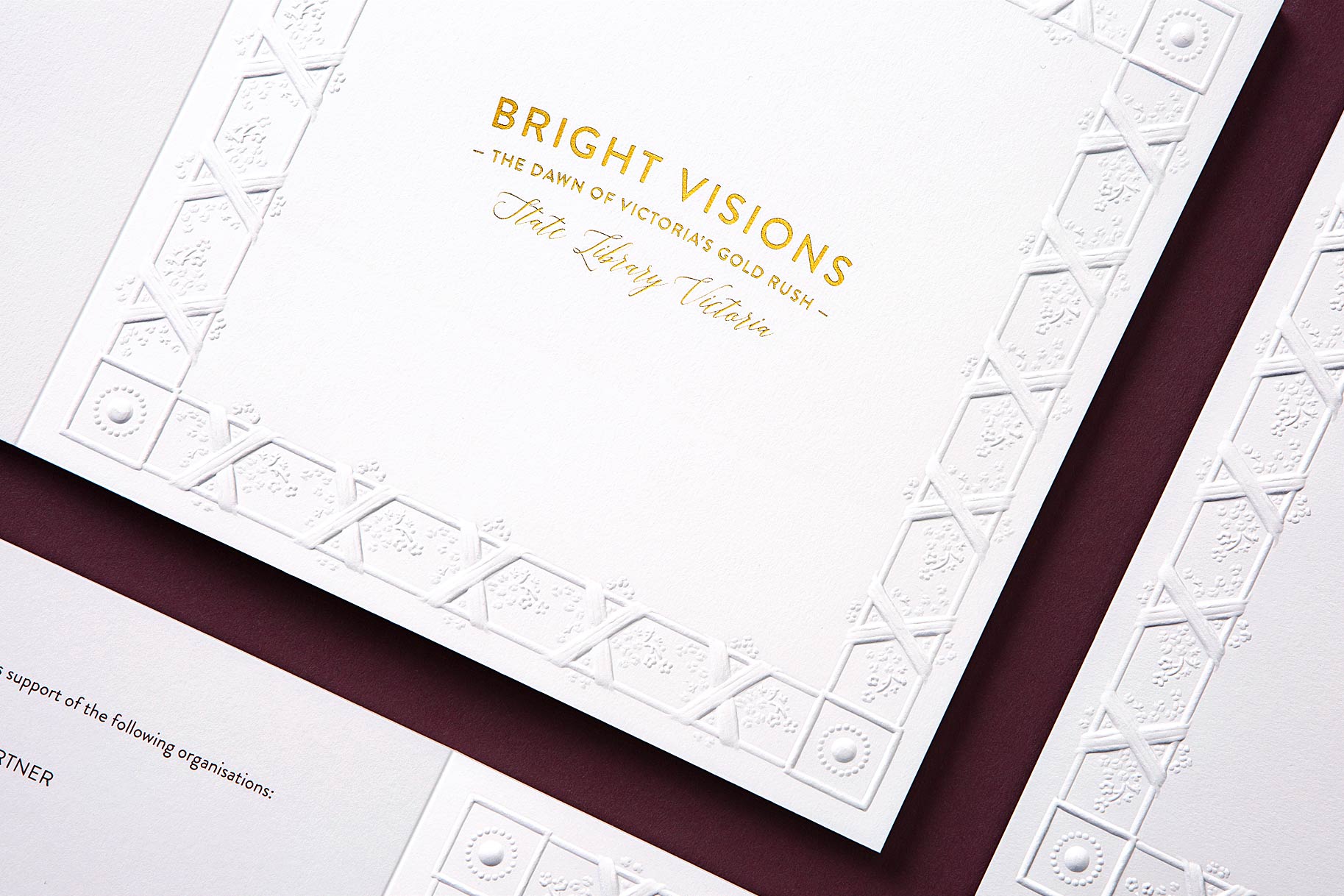 The high-profile event attracted 250 guests and generated more than $200,000 in revenue. Furthermore, 30% of the attendees were new rather than existing supporters.
Following the event, additional donations were received as well as enquiries from guests keen to support the Library's vision. New sponsors responded to the opportunity to be involved and were instrumental in delivering a successful event.
The creative positioning successfully set the 'Bright Visions' evening apart, easily communicating the key reasons why invitees would attend the event.